Serial Production of 28m CPC
Shipyard Modernization
Benchmarkable Results
Egyptian Navy (EN) and Swiftships partnership features a benchmarkable co-production model and successful partnership. The relationship between parties started in the earlier nineties with delivery of two (2) 54m Missile Retrievers and grew to a massive scale serial Co-production of 28m Coast Patrol Craft (CPC). By combining FMS and DCS contracts, 49 CPCs to be produced by 2027, including built, under-construction and ordered. 

#1 Serial Produced Design
28m CPC – the world's most serial produced military vessel in its class

Shipyard Modernization
Comprehensive Planning Yard and Site Sustainment Support

Full Localization
Transfer of Knowledge (ToK), Transfer of Technology (ToT) and Transfer of Production (ToP)

Co-Marketing & Expansion
Swiftships 28m CPCs locally produced in Egypt to be sold to African navies and additional vessels co-production
Swiftships provided a full scope of Co-production services that led to Egyptian industrial base growth and enables independent production of 28m CPCs to the EN. Program scope includes: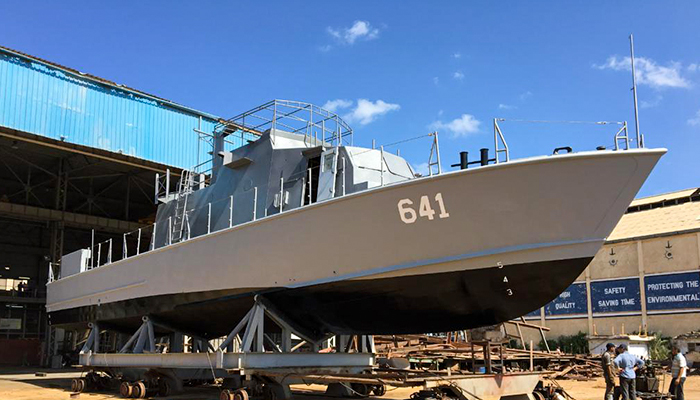 Swiftships' work started with the planning yard initiative. We prepared complete feasibility studies and execution plans. Swiftships assisted in building, modernizing, and furnishing over 5.5 acres of office space, five production bays, two syncrolifts, and a dry port, enabling the Egyptian Shipyard to build steel and aluminum vessels and repair ships of up to 70 meters. Its features are a mechanical slipway, floating dock and cranes, and advanced paint systems.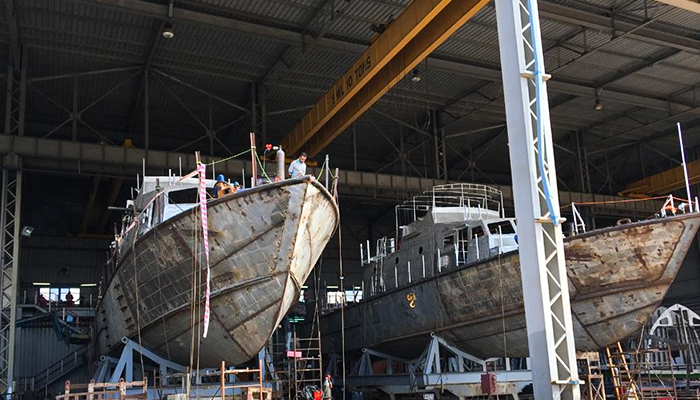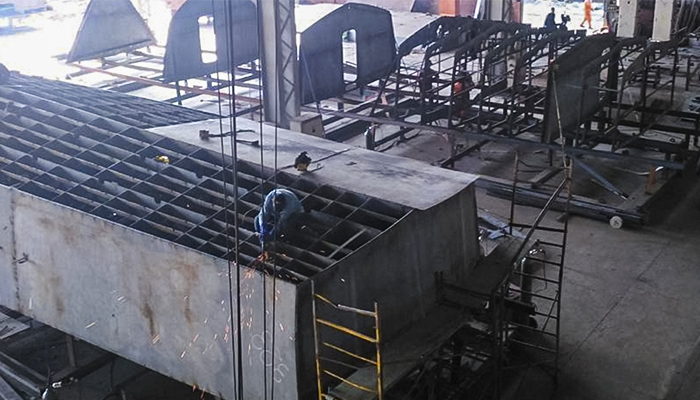 Transfer of Knowledge and Production (ToK/ToP)
Swiftships team provided On-Job Training (OJT) under joint approval from the US Navy DSCA/Pol-Mil Bureau and DoS under a Manufacturing License Agreement (MLA). Our ToK/ToP methods effectiveness reflected in the Egyptian team's ability to produce ships of the same quality and performance as those built by Swiftships' in the US yard.
Production and Current Operations
We deliver raw material and Kits under our ToP program and provided Subject Matter Experts (SMEs) for in-country support for the EN. We provide Warehouse and Supply Chain Management systems, licensing, documentation and integrated logistics services to enable the EN success on the co-production program. The local Egyptian workforce assembles 28m CPCs, integrates systems and commissions the vessel.
By combining FMS and DCS contracts, Swiftships has co-produced Twenty-six (26) 28m CPCs as of 2022 under the US Navy's High-Speed Naval Craft (HSNC) rules at the Egyptian Shipyard. EN has further executed contracts with Swiftships for twenty-three (23) 28m CPC's to be co-produced by 2027. Forty-nine (49) CPCs production makes it the world's most serial produced military vessel in its class.
Partnership between Swiftships & EN Extended Beyond 28m CPCs
EN and Swiftships started marketing Egypt-produced 28m CPCs for African navies. In addition, Swiftships has been discussing with the Egyptian Armaments Authority (EAA) to co-produce 35-meter Fast Patrol Vessels (FPV) in Alexandria to extend their capability from Steel co-production to Aluminum. This FPV will be all aluminum crafts with a 1,000 NM range with three (3) MTU engines to reach a top speed of 32 knots and a complement. Armament options include 12.7mm Rheinmetall Remote Controlled machine guns with additional armament.