Proven Hulls and Advanced Technology
Shipbuilding has been our core business since our establishment in 1942. We have, since, built over 1000 vessels for our military and commercial clients. We offer vessels of up to hundred meters, made of aluminum, steel, or a combination of both.
Our approach to continuous development has always been to anticipate future trends and deliver innovation that reshape the shipbuilding industry. We have pioneered in many areas, from aluminum welding technology, noise reduction, to commercial vessels conversion to militarized unmanned platforms. We are determined to continue to utilize our experience and know-how, to develop more efficient multi mission vessels that are environmentally friendlier, easy to maintain, and successfully support the missions and operational needs of modern naval and commercial fleets.
Swiftsips provides end-to-end shipbuilding services from design/engineering to construction, testing, certification and delivery of military and commercial purpose vessels. Our experienced program managers support clients on all aspects from requirements' definition to vessel's delivery. Our new vessels deliveries are also complemented by hands-on training, warranty/technical support. Our services include: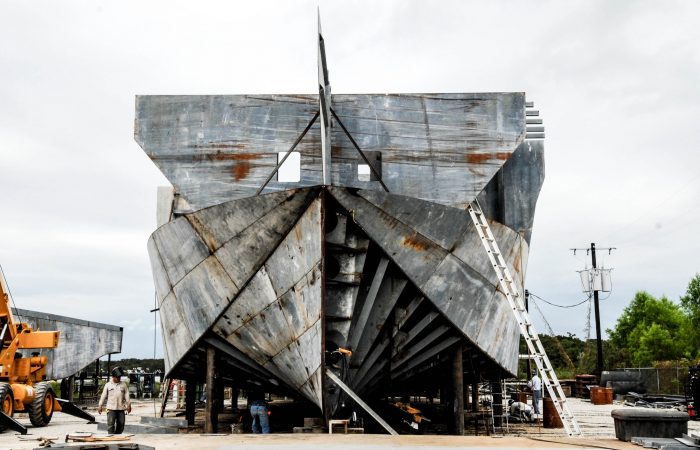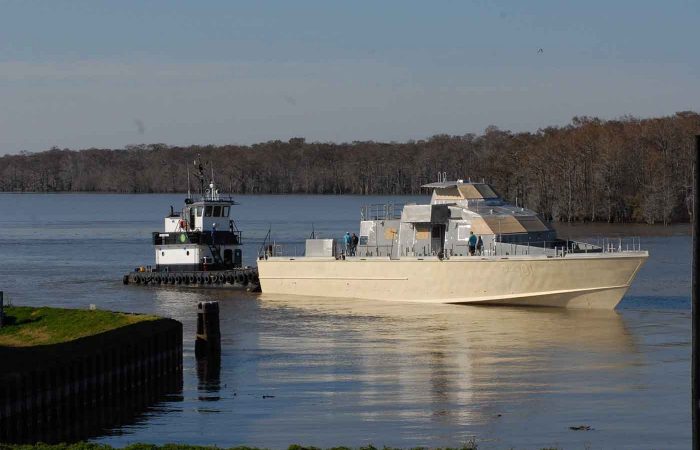 With intent to help our clients successfully employ newly acquired ships to their fleet and operations, Swiftships offers professional services for vessels' delivery, commissioning and operator/crew training. We also provide cost-effective and timely warranty support, technical assistance and spare parts provision. Many of our clients choose Swiftships' services for continuous maintenance.
Swiftships' flexibility in developing programs that meet customers' requirements is exemplified in our hybrid solutions for manufacturing ships. In this scenario, kits are produced in one of our facilities, and shipped to the client's location for assembly. This option gives several advantages to our clients: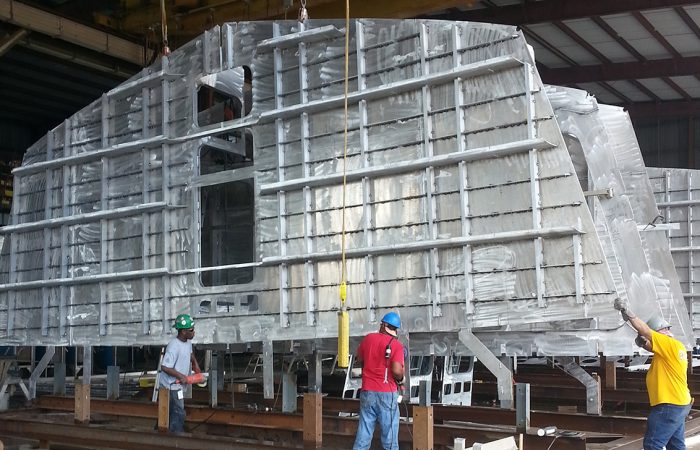 Ship Testing, Certification and Delivery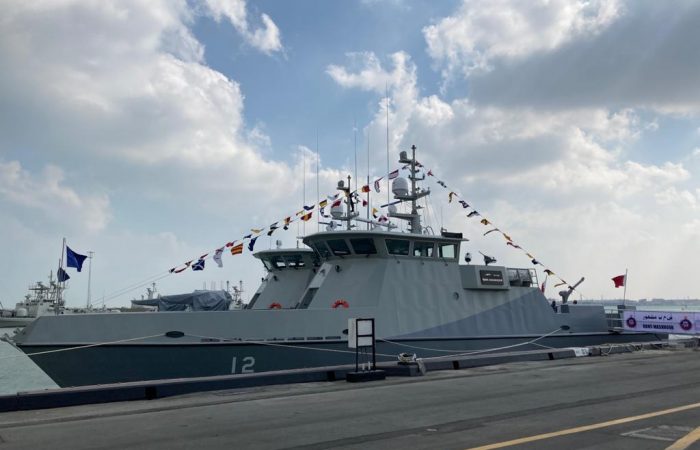 All our boats are designed to meet ABS (or equivalent) certification and US Coast Guard regulatory requirements and undergo rigorous harbor and sea acceptance trials to prove the same.
Delivering ships from our production yards to the customer can be accomplished mainly in two ways: the ship sails on its own power to the destination, or the ship is loaded on a larger ship as cargo and delivered to a destination port.
Either way Swiftships provides assistance to its clients with international logistics requirements, including export licenses as required by the U.S. Department of Defense (DoD) and transportation.
How Can We Work Together?
Of course, we can build your vessels in our location! But if for some economic or strategic reasons, you choose vessels' construction at your location – Swiftships can provide you with full support. We have extensive experience working with international clients on co-production programs, and we offer customized solutions to meet your needs. Learn more…
Swiftships has equal experience working both sales methods: Direct Commercial Sales (DCS) and Foreign Military Sales (FMS). Each has its own advantages; we invite you to contact us to discuss which method best suits your case.
Swiftships has comprehensive experience with military clients using Direct Commercial Sales (DCS) while adhering to the U.S. State Department (DOS) program requirements. We establish those contracts by working directly with the end clients to set their requirements and submit final documents to DOS for the required licenses.
Foreign Military Sales (FMS) is growing and has become a popular method for selling defense systems abroad. We have sold over 300 vessels through FMS as we offer numerous benefits to our clients, including the ability to reach a broader base of local shipyards, reduce the risk inherent in international sales, such as facilitation and planning. 
We obtain industry allowance for weapons' sales and other defense articles, defense services and military training to foreign clients from the Bureau of Political Military Affairs' Directorate of Defense Trade Controls (DDTC). Swiftship fulfills the rules and regulations of:
The Arms Control Export Act 
International Traffic in Arms Regulations (ITAR)
Military Critical Technologies List
We are expert in dealing with complex processes and changes:
Every year Congress requires the U.S. State Department to prepare "Section 655" report on military assistance, exports, and imports under the Foreign Assistance Act. Swiftships contributes by providing its own reports, detailing the end-use of the controlled U.S. weapons systems it has sold and exported.
Our relationship with foreign trade partners, such as MBDA, OTO Melara, and DRS Technology, allows us to be a leader in Arms and Integration under Direct Commercial Sales (DCS).
Broad Market Access
The FMS system makes every allied nation a potential customer, by including the U.S. companies' products in the standardized catalog for international sale.
Risk Reduction
FMS reduces the risk involved in working with foreign customers since an FMS is effectively a sale to the USG, not to the end-user.
Facilities' Planning
FMS orders have generous lead times from concept to delivery, allowing plenty of time for planning and production.
Reduced Administrative Burden
All international logistics requirements, including export licenses and transportation, are managed by the U.S. Department of Defense (DoD).
Frequently Asked Questions?
Is FMS more expensive than DCS?
Yes. In most cases, it is not possible to compare FMS and DCS costs directly. Under the FMS program, the U.S. Government charges an administrative fee, whereas in DCS there is no associated fee.
Is DCS delivery guaranteed?
Yes, as the client can obligate the builder to provide a performance bond.
Who can participate in the FMS program?
The US Government designates countries and international organizations eligible to participate in the FMS program. The Department of State makes recommendations and approves individual programs on a case-by-case basis. Currently, around 160 countries are eligible to participate in FMS.
What Are Some Other Differences Between FMS and DCS?
Under FMS, the Department of Defense (DoD) procures defense articles and services for the foreign customer using the same acquisition process used to procure its own military needs. Recent policy changes in the U.S. Government's Federal Acquisition. Regulations have opened the door, allowing foreign governments to participate in FMS procurement negotiations.
In general, the government-to-government purchase agreements tend to ensure standardization with U.S. forces, provide contract administrative services that may not be available through the private sector, and help lower unit costs by consolidating purchases for FMS customers with those of DoD. DCS allows the foreign customer more direct involvement during the contract negotiation phase and may allow firm-fixed pricing.