In-House Engineering and Proprietary Designs
Swiftships offers access to over a hundred proprietary military and commercial vessels' designs and test data with options for modifications and adjustments. Our engineers are experts in applying computer-aided design, engineering, and analysis methods across all technical disciplines involved in naval architecture. We use modern 3D digital tools for configuration auditing and management, optimization of availability and modernization planning. Our engineering teams combine continuous product development along with years of shipbuilding experience to produce innovative, highly accurate and functional technical designs.
Swiftships is offering a wide range of engineering services from preliminary designs to structural and functional engineering, development, and verification of complex platforms. Our solutions help ship owners to lower Total Ownership Cost (TOC) with the most accurate packages and reliable solutions for production implementation.  
Our solutions cover: 
Our work starts with comprehensive identification of requirements and precise determination of scope, followed by associated work packages, test memoranda, estimated costs, required materials lists, and schedules, as well as any deficiency reports required under emergent or non-emergent types of services.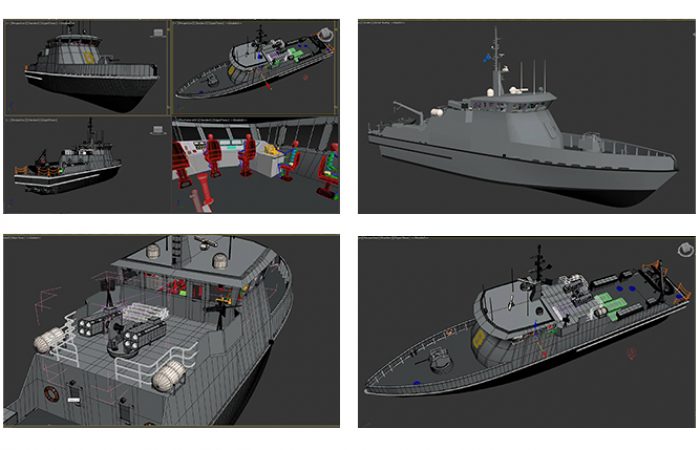 Swiftships' portfolio includes over 70 vessels' designs for military applications. Most of our platforms are tested by several world navies, military and security clients, and proven for high standards in quality and performance. One of the key elements to our success, is our flexibility in adapting solutions to meet clients' needs and missions' requirements. We are focused on economical, high endurance, multi-functional and reliable solutions to support the needs of military and commercial clients around the world. Discover our featured vessels, or learn more about our Military Vessels.
Commercial Vessels Designs
Our portfolio encompasses over 50 vessels' designs for commercial applications, including offshore supply, fast supply and maintenance vessels, crew boats and tugs/push boats. Our commercial hull designs have a proven performance record, as many of them continue to remain in service for over 50 years.
As customers' missions evolve towards unmanned missions, we have been working with our partners for modification and reconfiguration of commercial ship designs. We have developed many variants of our Fast Supply Vessels (FSVs), not only for autonomy, but also for minimally manned or remote operations of the craft.
Swiftships' unique advantage
Solutions from the US shipbuilder whose hulls have been tested in all seas and conditions
Full in-house teams of naval architects, engineers, maritime veterans, mechanics, and shipbuilders
Engineering solutions focused on fuel economy, cost optimization, crew safety, and environmental protection
Innovation driven program team whose Research and Development (R&D) and autonomous solutions are recognized in the industry
Experience serving 52 nations, and understanding their local requirements
Access to specialized experts and partners
As a comprehensive maritime solutions provider, our services include:
Procurement, material packages, and kits
Program management and supervision
Pipe fabrication and assembly
Metal fabrication
Electrical panels and assembly
Electronic and communication components