Swiftships Follow-on-Technicals (FOTs) solutions are provided globally and are custom tailored to meet client's operational needs and cost containment. Swiftships' skilled experts provide the highest level of response and priority for mission-critical needs and emergencies. Our worldwide technical support services are custom tailored and include:
Camp Swift in Iraq and Fleet Management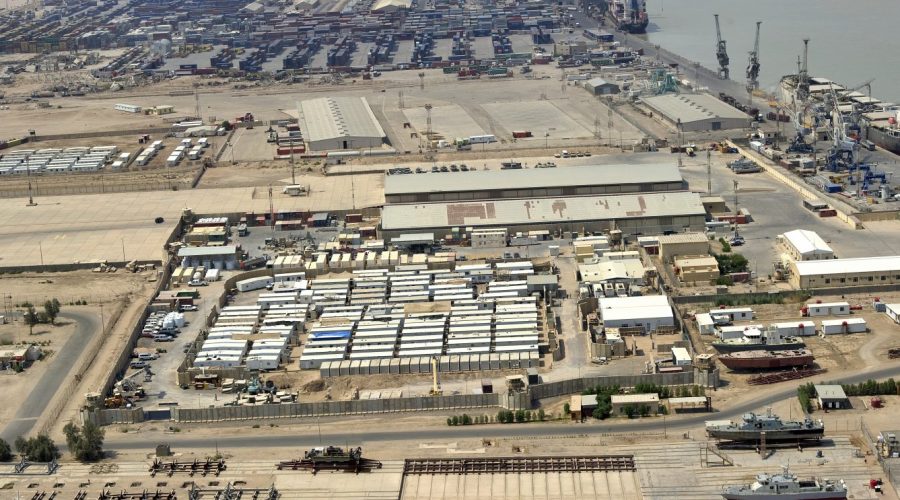 Swiftships relationship with Iraq Navy (IqN) started with 35m Patrol Boat program in 2009; we delivered 12 (Twelve) 35m Patrol Boats designed for the IqN. The program earned "a gold standard" reputation due to Swiftships' capability to deliver the vessels in 36 months, an extremely tight schedule for the state-of-the-art 35m Patrol Boats design and customized features to suit their IqN needs.
CLS Award: In 2014, the Iraq Ministry of Defense (MinDef) awarded Swiftships a sole source contract for a four (4) year Continuous Lifecycle Support (CLS) program under Foreign Military Sales (FMS) contract via NAVSEA. Under the agreement, Swiftships managed the maintenance of all vessels operated by the IqN, including maintenance support and repair. In addition to SRF, the contract provided technical expertise in preventative and planned maintenance, emergency repair, and platform overhaul support services.
Scope: Swiftships provided Continuous Lifecycle Support (CLS) to the Iraqi Naval Fleet in Umm Qasr. CLS included: Two (2) 62m Offshore Support Vessels (OSVs), Twelve (12) 35m Patrol Boats (PBs), Twenty Six (26) 40ft Defender Class Boats, One (1) Drydock, One (1) Syncrolift Maintenance, One (1) Dyno-facility, One (1) Ship Repair Facility (SRF) to provide all port side activity, and Three (3) Warehouse. In addition, Swiftships managed the entire Facilities and Base Security with both Static and Dynamic security personnel.
Operational Readiness. Swiftships provided Planning Yard, where IqN Fleet operational readiness stood at a benchmark level of 80%. Swiftships, sustainment management team, was on-call 24/7 and supported IqN mission readiness with Corrective and Preventative Maintenance.
Quality Assurance: Swiftships Quality Assurance (QA) team worked with US Navy Port Engineers on-site (in-country) and achieved the highest quality ratings for our customer for the efficiency and cost-effectiveness.
Preventative and Corrective Maintenance Support: Swiftships used a custom-built Computer Management Maintenance System (CMMS) to check-out material from several warehouses. Swiftships worked with other client's representatives, including but not limited to port engineer client maintenance support, and provided site/capabilities assessments and material condition assessments.
Training and Supply Chain Management: Swiftships also provided in-country training on all systems operations and systems preventative and mid to significant repairs.
Conclusion: Swiftships' in-country maintenance has proven to be successful with customers worldwide. Our Planning Yard (PY), Facility Management, and Ship Repair Facility (SRF) programs are standardized in line with USN's standards, and it can be customized to fit customers' specific requirements.