35 METER


COASTAL MINE HUNTER
Improved Capabilities
Coastal Defense &
Maritime Security
Swiftships' Coastal Mine Hunter is a twin z-drive diesel powered vessel. The hull and superstructure are made of fiberglass reinforced plastic (GRP). This vessel is designed to be utilized as a mine hunting/countermeasures craft with a secondary mission of route surveying. It will perform in open ocean operations up to Sea State 3. The hull is constructed of solid laminate skin with foam frames and designed shock capacity. This craft is equipped with demagnetized equipment and is perfect to execute a post-mine strategy. It can also be outfitted for other operations (such as low radar cross section missions), it has a top speed of 12.5 knots. Specifications can be modified in accordance to the operator's preferences and needs.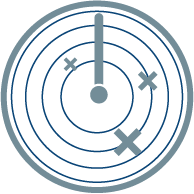 Coastal Defense and Maritime Security
Mine hunting/post-mine strategy, route surveying and low radar cross section missions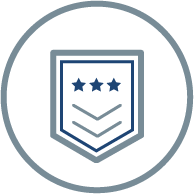 Custom Upgrades
Craft can be upgraded with state-of-art equipment and electronics
6,500 Gallons (24,605 Liters)

2,500 Gallons (9,463 Liters)

Main Engines: Two (2) magnetically treated diesel engines, rated 517 SHP each
Generators: Two (2) 85 KW generators
Bow Thrusters: One (1) Bow Thruster
Propulsors: Propellers

Two (2) .50 caliber machine guns located on the forward deck port and starboard

Two (2) Radars
Integrated Bridge System (IBS)
Two (2) GDPS
Depth sounder
Speed and distance log
Sound powered telephone
General announcing system
Intercommunication system
HF and VHF transceivers
Dynamic positioning system
Mine detecting sonar system
GMDSS

Three 2-man staterooms
Two heads equipped with lavatory and shower
24 berths

One RHIB with one davit with DC electric winch
How can we work together?
Of course, we can build your vessels in our location! But if for some economic or strategic reasons, you choose vessels' construction at your location – Swiftships can provide you a full support. We have extensive experience working with international clients on co-production programs, and we offer customized solutions to meet your needs. Learn more…
We design, build, integrate, and maintain naval vessels for multiple missions: from border protection to lower-intensity threat missions and high-demand or high-threat law enforcement scenarios.