Swiftships Automated Supply Management System SCMS D365
DCMA Certified IoT Web 4.0 Technology Full Integration
Updated: February 27, 2023
Swiftships Supply Chain Management System (SCMS) provides Program, Production, Procurement, Warehousing, and Maintenance Management using a Computerized Maintenance Management System (CMMS) built on the Department of Defense (DoD) supply chain principle using Microsoft Dynamics 365 (D365) Enterprise Resource Planning (ERP) software platform that centralizes inventory and maintenance information and facilitates the processes of maintenance operations. It helps optimize the utilization and availability of physical equipment like vehicles, machinery, communications, plant infrastructures, and other global assets for the U.S. Government and Commercial clients. Swiftships successfully utilized SCMS in multiple programs for Production and Maintenance, Repair and Overhaul (MRO) service management.

Over 20 Modules
across program management, planning, production, inventory, warehouse, and integrated logistics

IoT Intelligence
SCMS is based on Internet of Things (IoT) web 4.0 technology

DoD Approved
ertified by Defense Contract Management Agency (DCMA)

Full Integration
with 3rd party and web-based applications

Operational Readiness
automation to keep the fleet mission-ready at all times and real-time availability

Multi-Language
customizable to meet the needs of multiple nations, and includes support for multiple languages
Our critical methodology is focused on efficiently and effectively providing Logistics and Supply Chain Management (SCM), and the platform is customized for Shipbuilding and Maintenance operations management. SCMS is based on Internet of Things (IoT) web 4.0 technology and provides real-time insights to Production Delays, Equipment Downtime and Product Quality. System is certified by Defense Contract Management Agency (DCMA).
Swiftships SCMS Project Management module allows to manage CONUS and OCONUS programs, track IMS and the daily in-and-out material flow on different projects. Integrated Logistics (ILS) and Product Support modules are used to manage material/equipment product details, and allows spare parts, warehouse  management and preventative. Procurement module enables to conveniently generate Purchase Orders (POs) for Bill of Material (BOM). BOM is interlinked with Engineering Data allowing seamless and error-free document generation.
Swiftships SCMS D365 ties together real-time financial reporting with Asset, Inventory, Master Planning, Product Support, and ILS Management. Its principal value driver is its distributive inventory process, where the system matches the demand and real-time information for intelligent decision-making during tracking. The platform enables one source of truth across the entire enterprise, allowing for company-wide visibility, decision-making, and reporting.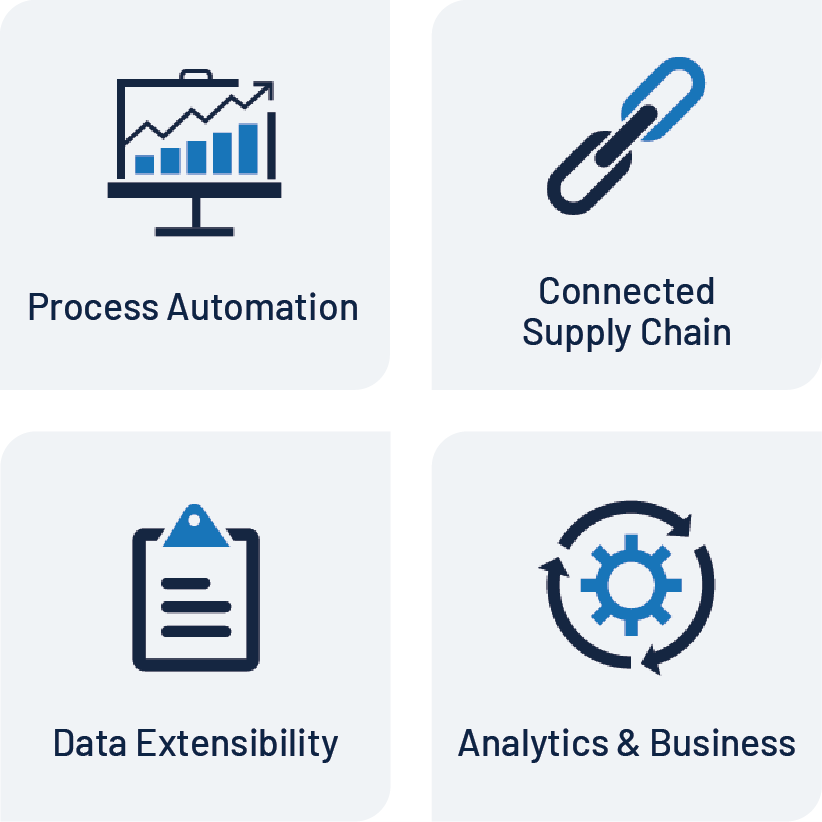 Enterprise Asset Management
Swiftships' SCMS is an advanced Asset Management System that is flexible for customization and features seamless modules integration. SCMS can be custom-tailored for many industries and specific requirement. Swiftships successfully utilized SCMS during number of programs across different geographies. For example, it was used for Preventative and Corrective Maintenance Management during Follow-on-Technical Support (FOTS) program for the Iraqi Fleet, in Umm Qasr, Iraq, and for On-Cycle Cyclical Maintenance (OCCM) management during SLEP program for the US Army. In both cases, Swiftships achieved benchmarkable results keeping clients fleet at the highest operational readiness and ensuring minimum downtime of the vessel. SCMS is a proven solution for Automated Asset Management that allows to save time and resources, prevent errors and delays in the supply chain, and leads to timely and accurate asset management. It is specially optimized for MRO service management.


Swiftships SCMS features integrated Procurement and Sourcing Management functions on a single application. It has embedded tools for spend analysis, supplier performance management, and real-time vendor collaboration that provides the actionable intelligence needed to maximize the effectiveness of purchasing and sourcing process. Purchasing Policy and Cost Analysis sub-modules allow data-driven decisions that leads to tremendous cost-saving, automated contract management and transparent controls.
Inventory management is a critical function in shipbuilding and ship repair industry as inaccurate management of inventory can lead to schedule delays, increased cost, prolonged vessel downtime, and overall affect client's readiness for mission. Swiftships SCMS Inventory Management module allows to track, organize and manage inventory levels, orders, sales and deliveries. It also featured Predictive Analytics that allow to correctly project stock requirement, eliminate faulty parts/components leading to improved product/service quality, optimize warehouse space utilization, manage warranties, etc. SCMS Inventory Management module enables real-time goods tracking and transportation management, supports labor and production planning.


Swiftships SCMS features robust Warehouse Management module that helps clients modernize their warehouse operations and drastically reduce stock carrying cost. Warehouse management is fully integrated with other business processes such as transportation, manufacturing, quality control, purchase, logistics, sales, and returns. This allows to prevent overstock (or understock) and helps to optimize warehouse space utilization, improves labor efficiency and simplifies internal logistics.  System design is based on streamlined warehouse management processes, and use of SCMS helps organization management to implement lean and efficient operations and procedures.