Redefining the New Possible in the Maritime Industry
We are recognized internationally as a leading shipbuilder and maritime systems integrator. Our main activities include design, engineering & new build of naval platforms, vessels' life extension and co-production programs, R&D and innovation in autonomous and advanced technologies.
We Leverage our Experiences, and we Continue to Innovate
To maintain our position at the forefront of maritime industry, we know that we cannot allow our successes of yesterday to turn into complacency. As technology rapidly evolves and the changing economic environment requires new adaptable business practices, Swiftships is well prepared and positioned to satisfy the ever- growing demand for our clients' operational and mission needs.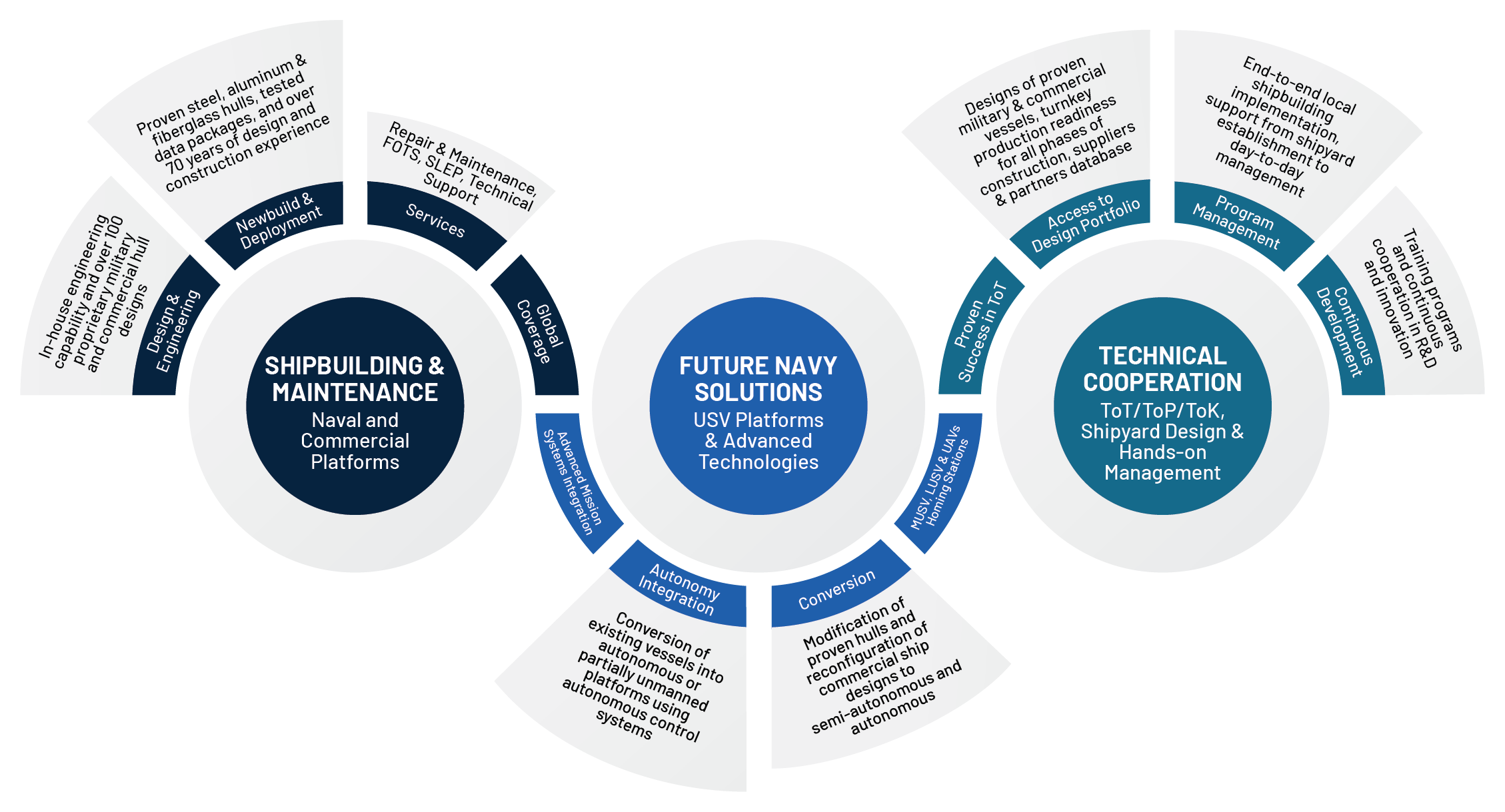 Swiftships has made it a priority to be a responsible corporate citizen committed to protecting people, the environment and our company's resources, while providing quality vessels and services. We have developed effective management systems, risk control measures, standards, and special training programs, to ensure optimal performance, highest value to the customers and maximum returns to all stakeholder groups, while operating an overall sustainable business.
Give an Ultimate Advantage to Clients:
•  Integrated maritime solutions provider, with full responsibility
•  Access to the most advanced designs, technologies and innovative solutions
•  Cost reduction methodology on programs to support future investments
•  Efficient transfer of technology and know-how so clients achieve promised results
•  Proven hulls, test-data and products quality guarantee
Industry and Quality Standards:
•  USN MSRA/ABR, FFL Type: 11 FFL
•  ISO 9001: 2015 and ABS Certified
•  Supply Chain Management Systems and Complex Logistics
•  Effective and client's benefit oriented Product Life Cycle Support and after-sale services
•  Financial credibility and Bonding capability
•  Deep Expertise in Direct Commercial and Foreign Military Sales
Aim for Zero Incidents Vision with Measurable goals and control systems
Swiftships' internal Process Safety Training Programs;
Risks and Crisis Management Systems
Equipment and Process Security Measures
Personal Health and Safety Assessments
Governance and Compliance
•  Conduct of business activities in honest, ethical, and respectful manners
•  Build long-term, mutual understanding and sustainable relationships with the vendors and clients
•  Fair business practice with in-house regulated FCPA policy
•  Maintain Zero tolerance for drug use
•  Keep our client's priorities and benefits at the forefront
Conservation of energy, water and other resources policies
Prevention of Pollution practices from operations in Production Facilities to individual vessel characteristics
Motivate our employees to be individually responsible toward the environment
No environment reportable incidents
Collaborative initiatives on positive impact to environment and society with suppliers, partners and local communities 
Ownership and accountability to deliver results for collective success
Talent Development and Mentoring
Swift's Academy and Training courses to grow technical experts pool
Diversity and Team Building Campaigns
Effective recruitment and new employee integration methods
Extended Product Service Life through highest quality materials, technology and systems implementation
Innovation and R&D driven initiatives to improve the performance and lifecycle of vessels
Reduced risks to human factor and safety while operating Swiftships vessels
Manufacturing processes optimization and quality control systems
Keep clients updated so they can apply our best knowledge
Stakeholders Interest Protection:
Maintain profitability through operational effectiveness and growth
Continue improvements in business processes to achieve overall performance enhancements
Sustain and grow the company's tangible and intangible assets and human resource capital
Audit, review and improve systems and performance communication tools

Protection of Intellectual Property for our clients and governments